Ash Tree Project Update

Tree Removal Notice: Two ash trees will be removed Saturday, May 31st as per our project plan.
Ash Tree "Clump" behind #1 Green – Tree is poorly positioned.  It is robbing water and nutriments from the #1 Green and #9 Tee.  Tree is in poor health.  The canopy has been cabled together for many years in an attempt to sustain it.  The tree was reviewed by a state forester, his opinion is it should come down for safety reasons.  The tree does not merit the expense of treating it for emerald ash borer.
Ash Tree between #2 & #6 Fairways – We need to provide room to plant new trees in this area.  There are three ash in a row at the 200 hundred yard marker on #2 Fairway.  The middle tree will be removed.  This fall it will be replace by new tree(s).
Stump Removal – Four stumps will be removed so the areas can be prepared and reseeded.
(More info below the photo)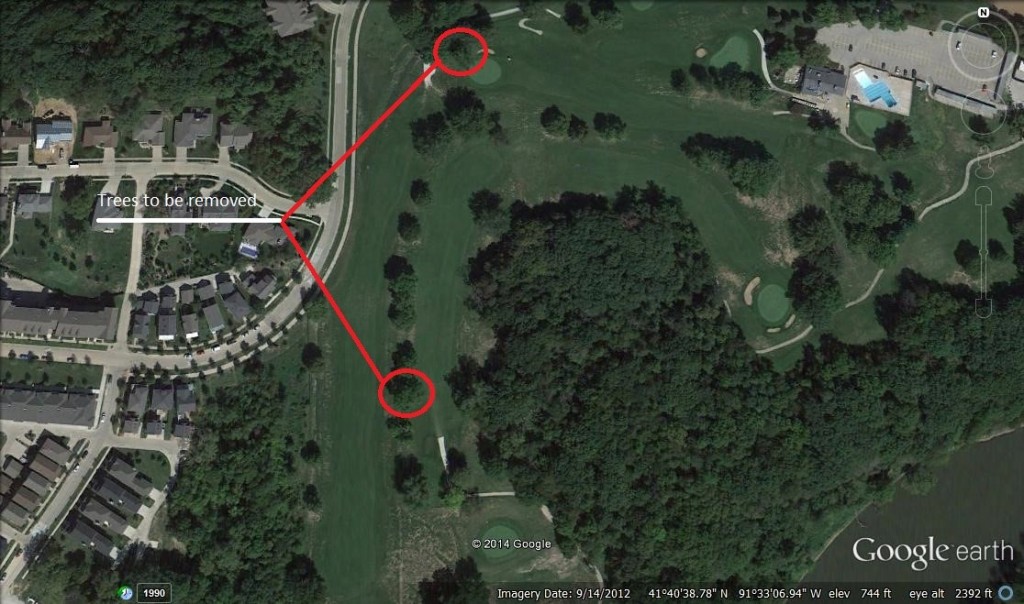 Local Rule of Play on Saturday, May 31
Golfers are asked to use caution and be aware of crews on the course, particularly when driving off #2 Tee.  If you are in a situation where your line of play is near crews and their equipment, please find a position that doesn't endanger anyone and drop your ball with no penalty.